Poker Room


Comparazione Bonus
Poker Live
WSOP 2023 – Pubblicato lo schedule tornei, Main Event pronto a un nuovo record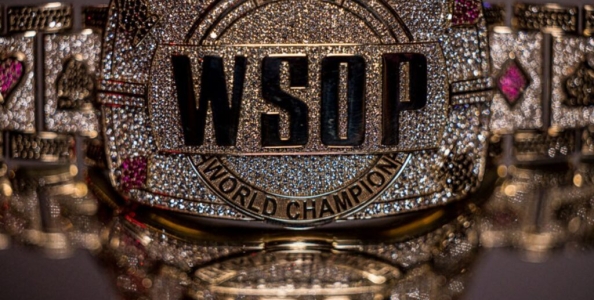 Area
Vuoi approfondire?
Il gran giorno è arrivato! Le World Series Of Poker hanno pubblicato il calendario tornei delle WSOP 2023, e forse mai come prima ci sono novità clamorose, anche per i player europei.
La 54ª edizione delle WSOP di Las Vegas è in programma dal 30 maggio al 18 luglio "Offrendo più tavoli, più varietà, e la più grande quantità di braccialetti mai schedulati nella sua ricca storia", come riporta il comunicato stampa. Ma la notizia esplosiva è che il Main Event ha tutte le intenzioni di infrangere il suo stesso record.
Dopo il trasferimento dell'anno scorso, la location si conferma tra Horseshoe (ex Bally's) e Paris Las Vegas Hotel & Casino. Andiamo a dare un'occhiata al calendario e approfondire i dettagli di queste WSOP 2023.
WSOP 2023 – I tornei principali
Come da tradizione, il primo evento sarà dedicato ai Casinò Employees, ma già poche ore più tardi scenderanno in campo i pezzi da 90 con il $25.000 High Roller 6-Handed. 
Il giorno dopo, la seconda edizione del $1,000 – Mistery Millions con un mistery bounty da un milione di dollari che verrà estratto dal fortunato erede del testimone di Matt Glantz.
Confermati gli apprezzatissimi Monster Stack da $1.500, Millionaire Maker da $1.500, il Colossus da $400, il Mini-Main Event da $1.000 e il Lucky 7 da $777. Il Tournament Of Champions, a differenza dell'altro anno, si giocherà nei primissimi giorni.
Tra gli eventi low buy-in, le novità saranno l'Ultra Stack da $600 con stack di partenza da 60.000 e livelli da 30′-40′ e lo Short Deck da $1.500, ma soprattutto il Gladiator da $300 con 3 milioni di dollari garantiti, primo torneo a questo prezzo della storia WSOP.
Spazio alle varianti con le new entry Badugi, Big O (five-card plo hi-lo split) e Mixed Omaha Hi-Lo 8 or Better and Seven Card Stud Hi-Lo 8 or Better, senza dimenticare l'High Roller H.O.R.S.E. da $25.000 di iscrizione.
Parlando di pezzi forti, non mancheranno super high roller fino a $250.000, l'adrenalinico Poker Player Championship, e ovviamente il Main Event WSOP.
Main Event verso un nuovo record?
Le WSOP hanno messo le cose in chiaro: sono determinate a infrangere il record del 2006 creando il Main Event più popolato della storia.
C'è da notare che negli ultimi anni ci sono andate spesso vicino, in particolare tra 2019 (l'anno di Dario) e 2022, in cui hanno superato le 8.500 entries.
Con la disponibilità di tavoli più alta di tutta la loro storia (608 tavoli su oltre 18.000 metri quadri), le World Series stanno puntando tutto in questa direzione.
Queste le parole di Ty Stewart, direttore esecutivo: "Con la spinta generata dal debutto delle WSOP sulla strip di Las Vegas dell'altro anno, ci aspettiamo un'edizione e un World Championship da record al Paris e Horseshoe Las Vegas nel 2023."
Main Event Mania
Gli organizzatori hanno creato una gigantesca serie di promozioni per eclissare il record di 17 anni fa, a partire da 712 ticket garantiti in tornei online, ma anche il live avrà la sua parte.
Nei casinò di quattro continenti diversi, per la prima volta ci saranno qualificazioni globali al Main Event WSOP, con satelliti in step a partire da $140 fino a $1.175, che garantiranno ticket e spese di viaggio.
Le location includono il King's Resort di Rozvadov, il Club Pierre Charron di Parigi e il Casino Es Saadi di Marrakech, le date: 20-21 maggio.
Main Event for Life
Se sarà record, sarà grande festa!
La promozione Main Event for Life prevede, in caso il Main Event superi le 8.773 entries, un'estrazione tra tutti gli iscritti che mette in palio il buy-in per il Main dei prossimi trenta anni.
Sarà solo una possibilità su 9.000, ma quale poker player non sogna di vincerla?
WSOP 2022 – La schedule
| | |
| --- | --- |
| Date | Event |
| Tue, May 30th | Event #1: $500 Casino Employees No-Limit Hold'em |
| Tue, May 30th | Event #2: $25,000 High Roller Six Handed No-Limit Hold'em |
| Wed, May 31st | Event #3: $1,000 Mystery Millions – No-Limit Hold'em – Flight A |
| Wed, May 31st | Event #4: Tournament of Champions |
| Wed, May 31st | Event #5: $1,500 Dealers Choice 6-Handed |
| Thu, Jun 1st | Event #3: $1,000 Mystery Millions – No-Limit Hold'em – Flight B |
| Thu, Jun 1st | Event #6: $5,000 Mixed No-Limit Hold'em; Pot-Limit Omaha |
| Thu, Jun 1st | Event #7: $1,500 Limit Hold'em |
| Thu, Jun 1st | Online Event #1: $333 No-Limit Hold'em Triple Treys Summer Tip Off |
| Fri, Jun 2nd | Event #3: $1,000 Mystery Millions – No-Limit Hold'em – Flight C |
| Fri, Jun 2nd | Event #8: $25,000 Heads Up No-Limit Hold'em Championship |
| Fri, Jun 2nd | Event #9: $1,500 Seven Card Stud |
| Sat, Jun 3rd | Event #3: $1,000 Mystery Millions – No-Limit Hold'em – Flight D |
| Sat, Jun 3rd | Event #10: $10,000 Dealers Choice 6-Handed Championship |
| Sun, Jun 4th | Event #11: $600 No-Limit Hold'em Deepstack |
| Sun, Jun 4th | Event #12: $5,000 Freezeout No-Limit Hold'em 8-Handed |
| Sun, Jun 4th | Online Event #2: $500 No-Limit Hold'em Bankroll Builder |
| Sun, Jun 4th | Online Event #3: $1,000 No-Limit Hold'em Deepstack |
| Mon, Jun 5th | Event #13: $600 Pot-Limit Omaha Deepstack |
| Mon, Jun 5th | Event #14: $10,000 Seven Card Stud Championship |
| Tue, Jun 6th | Event #15: $1,500 6-Handed No-Limit Hold'em |
| Tue, Jun 6th | Event #16: $25,000 High Roller No-Limit Hold'em 8-Handed |
| Tue, Jun 6th | Event #17: $1,500 Omaha Hi-Lo 8 or Better |
| Tue, Jun 6th | Online Event #4: $600 No-Limit Hold'em Ultra Deepstack |
| Wed, Jun 7th | Event #18: $300 Gladiators of Poker No-limit Hold'em – Flight A |
| Wed, Jun 7th | Event #19: $2,500 Freezeout No-Limit Hold'em |
| Wed, Jun 7th | Event #20: $1,500 Badugi |
| Thu, Jun 8th | Event #18: $300 Gladiators of Poker No-limit Hold'em – Flight B |
| Thu, Jun 8th | Event #21: $1,000 Pot-Limit Omaha 8-Handed |
| Thu, Jun 8th | Event #22: $10,000 Limit Hold'em Championship |
| Fri, Jun 9th | Event #18: $300 Gladiators of Poker No-limit Hold'em – Flight C |
| Fri, Jun 9th | Event #23: $50,000 High Roller No-Limit Hold'em |
| Fri, Jun 9th | Event #24: $1,500 Razz |
| Sat, Jun 10th | Event #18: $300 Gladiators of Poker No-limit Hold'em – Flight D |
| Sat, Jun 10th | Event #25: $10,000 Omaha Hi-Lo 8 or Better Championship |
| Sun, Jun 11th | Event #26: $800 No-Limit Hold'em Deepstack |
| Sun, Jun 11th | Event #27: $1,500 Eight Game Mix 6-Handed |
| Sun, Jun 11th | Online Event #5: $400 No-Limit Hold'em 8-Max |
| Mon, Jun 12th | Event #28: $1,500 Freezeout No-Limit Holdem |
| Mon, Jun 12th | Event #29: $100,000 High Roller No-Limit Hold'em |
| Mon, Jun 12th | Event #30: $1,500 Limit 2-7 Lowball Triple Draw |
| Tue, Jun 13th | Event #31: $600 Mixed No-Limit Hold'em; Pot-Limit Omaha Deepstack |
| Tue, Jun 13th | Event #32: $3,000 6-Handed No-Limit Hold'em |
| Tue, Jun 13th | Event #33: $10,000 Razz Championship |
| Wed, Jun 14th | Event #34: $1,500 Pot-Limit Omaha |
| Wed, Jun 14th | Event #35: $10,000 Secret Bounty No-Limit Hold'em |
| Wed, Jun 14th | Event #36: $3,000 Nine Game Mix |
| Thu, Jun 15th | Event #37: $2,000 No-Limit Holdem |
| Thu, Jun 15th | Event #38: $10,000 Limit 2-7 Lowball Triple Draw Championship |
| Fri, Jun 16th | Event #39: $1,500 MONSTER STACK No-Limit Hold'em – Flight A |
| Fri, Jun 16th | Event #40: $250,000 Super High Roller No-Limit Hold'em |
| Sat, Jun 17th | Event #39: $1,500 MONSTER STACK No-Limit Hold'em – Flight B |
| Sat, Jun 17th | Event #41: $1,500 Big O |
| Sun, Jun 18th | Event #42: $800 8-Handed No-Limit Hold'em Deepstack |
| Sun, Jun 18th | Event #43: $50,000 Poker Players Championship |
| Sun, Jun 18th | Online Event #6: $500 No-Limit Hold'em Turbo |
| Sun, Jun 18th | Online Event #7: $500 PLO 8-Max |
| Mon, Jun 19th | Event #44: $3,000 No-Limit Holdem |
| Mon, Jun 19th | Event #45: $1,500 Mixed |
| Tue, Jun 20th | Event #46: $500 Freezeout No-Limit Holdem |
| Tue, Jun 20th | Event #47: $1,500 H.O.R.S.E. |
| Tue, Jun 20th | Online Event #8: $3,200 No-Limit Hold'em High Roller |
| Wed, Jun 21st | Event #48: $1,000 SENIORS No-Limit Hold'em Championship – Flight A |
| Wed, Jun 21st | Event #49: $1,500 Super Turbo Bounty No-Limit Hold'em |
| Wed, Jun 21st | Event #50: $10,000 Pot-Limit Omaha Championship |
| Thu, Jun 22nd | Event #48: $1,000 SENIORS No-Limit Hold'em Championship – Flight B |
| Thu, Jun 22nd | Event #51: $1,000 TAG TEAM No-Limit Hold'em |
| Thu, Jun 22nd | Event #52: $2,500 Mixed Triple Draw Lowball |
| Thu, Jun 22nd | Online Event #9: $1,000 PLO Championship |
| Fri, Jun 23rd | Event #53: $1,500 MILLIONAIRE MAKER No-Limit Hold'em – Flight A |
| Fri, Jun 23rd | Event #54: $10,000 H.O.R.S.E. Championship |
| Sat, Jun 24th | Event #53: $1,500 MILLIONAIRE MAKER No-Limit Hold'em – Flight B |
| Sat, Jun 24th | Event #55: $1,500 Seven Card Stud Hi-Lo 8 or Better |
| Sun, Jun 25th | Event #56: $500 SALUTE to Warriors – No-Limit Hold'em |
| Sun, Jun 25th | Event #57: $25,000 High Roller Pot-Limit Omaha |
| Sun, Jun 25th | Event #58: $3,000 6-Handed Limit Hold'em |
| Sun, Jun 25th | Online Event #10: $400 No-Limit Ultra Deepstack |
| Mon, Jun 26th | Event #59: $3,000 Freezeout No-Limit Hold'em |
| Mon, Jun 26th | Event #60: $1,500 No-Limit 2-7 Lowball Draw |
| Tue, Jun 27th | Event #61: $1,000 SUPER SENIORS No-Limit Hold'em |
| Tue, Jun 27th | Event #62: $1,500 Mixed No-Limit Hold'em, Pot-Limit Omaha |
| Tue, Jun 27th | Event #63: $10,000 Seven Card Stud Hi-Lo 8 or Better Championship |
| Tue, Jun 27th | Online Event #11: $888 No-Limit Hold'em Crazy 8's |
| Wed, Jun 28th | Event #64: $600 Deepstack Championship No-Limit Hold'em |
| Wed, Jun 28th | Event #65: $5,000 6-Handed No-Limit Hold'em |
| Wed, Jun 28th | Event #66: $1,500 Pot-Limit Omaha Hi-Lo 8 or Better |
| Thu, Jun 29th | Event #67: $1,000 LADIES No-Limit Hold'em Championship |
| Thu, Jun 29th | Event #68: $1,000 Super Turbo Bounty No-Limit Hold'em |
| Thu, Jun 29th | Event #69: $10,000 No-Limit 2-7 Lowball Draw Championship |
| Fri, Jun 30th | Event #70: $400 COLOSSUS No-Limit Hold'em – Flight A |
| Fri, Jun 30th | Event #71: $50,000 HIGH ROLLER Pot-Limit Omaha |
| Sat, Jul 1st | Event #70: $400 COLOSSUS No-Limit Hold'em – Flight B |
| Sat, Jul 1st | Event #72: $10,000 Super Turbo Bounty No-Limit Hold'em |
| Sat, Jul 1st | Event #73: $2,500 Mixed Big Bet Event |
| Sun, Jul 2nd | Event #74: $1,000 MINI Main Event No-Limit Hold'em |
| Sun, Jul 2nd | Event #75: $10,000 Pot-Limit Omaha Hi-Lo 8 or Better Championship |
| Sun, Jul 2nd | Online Event #12: $500 No-Limit Hold'em Deepstack |
| Mon, Jul 3rd | Event #76: $10,000 MAIN EVENT No-Limit Hold'em World Championship – Flight A |
| Mon, Jul 3rd | Online Event #13: $5,300 No-Limit Hold'em High Roller Championship |
| Tue, Jul 4th | Event #76: $10,000 MAIN EVENT No-Limit Hold'em World Championship – Flight B |
| Wed, Jul 5th | Event #76: $10,000 MAIN EVENT No-Limit Hold'em World Championship – Flight C |
| Thu, Jul 6th | Event #76: $10,000 MAIN EVENT No-Limit Hold'em World Championship – Flight D |
| Thu, Jul 6th | Online Event #14: $400 No-Limit Hold'em Turbo |
| Fri, Jul 7th | Event #77: $777 Lucky 7's No-Limit Hold'em – Flight A |
| Fri, Jul 7th | Event #78: $1,500 BOUNTY Pot-Limit Omaha |
| Sat, Jul 8th | Event #77: $777 Lucky 7's No-Limit Hold'em – Flight B |
| Sat, Jul 8th | Online Event #15: No-Limit Hold'em Championship |
| Sun, Jul 9th | Event #77: $777 Lucky 7's No-Limit Hold'em – Flight C |
| Sun, Jul 9th | Online Event #16: $600 Online Deepstack Championship |
| Mon, Jul 10th | Event #79: $2,500 No-Limit Hold'em |
| Mon, Jul 10th | Event #80: $25,000 High Roller H.O.R.S.E. |
| Tue, Jul 11th | Event #81: $600 Ultra Stack – No-limit Hold'em – Flight A |
| Tue, Jul 11th | Event #82: $3,000 6-Handed Pot-Limit Omaha |
| Tue, Jul 11th | Online Event #17: $1,000 No-Limit Hold'em 6-Max Championship |
| Wed, Jul 12th | Event #81: $600 Ultra Stack – No-limit Hold'em – Flight B |
| Wed, Jul 12th | Event #83: $1,500 Short Deck No-Limit Hold'em |
| Wed, Jul 12th | Event #84: $50,000 HIGH ROLLER No-Limit Hold'em |
| Thu, Jul 13th | Event #85: $1,500 SHOOTOUT No-Limit Hold'em |
| Thu, Jul 13th | Event #86: $1,979 Poker Hall of Fame Bounty No-Limit Hold'em |
| Thu, Jul 13th | Event #87: $2,500 Mixed |
| Fri, Jul 14th | Event #88: $1,500 The Closer – No-Limit Hold'em – Flight A |
| Fri, Jul 14th | Event #89: $1,000 FLIP & GO No-Limit Hold'em Presented by GG Poker |
| Fri, Jul 14th | Event #90: $10,000 6-Handed No-Limit Hold'em Championship |
| Sat, Jul 15th | Event #88: $1,500 The Closer – No-Limit Hold'em – Flight B |
| Sat, Jul 15th | Event #91: $3,000 H.O.R.S.E. |
| Sat, Jul 15th | Online Event #18: $2,000 Freezeout Championship |
| Sun, Jul 16th | Event #92: $1,000 Freezeout No-Limit Hold'em |
| Sun, Jul 16th | Event #93: $10,000 Short Deck No-Limit Hold'em |
| Sun, Jul 16th | Online Event #19: $500 NL Hold'em Summer Saver |
| Sun, Jul 16th | Online Event #20: $777 No-Limit Hold'em Lucky 7's |
| Mon, Jul 17th | Event #94: $5,000 8-Handed No-Limit Hold'em |
| Tue, Jul 18th | Event #95: $1,000 Super Turbo No-Limit Hold'em |